It's called Funbob Baranci the new attraction of the Val Pusteria, the first long summer toboggan run in South Tyrol 1.7 Km to blast the green meadows of Mount Baranci.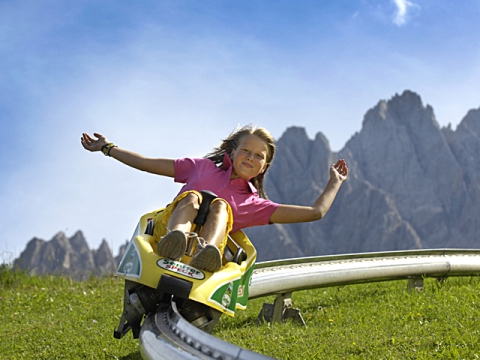 Each year new attractions springing up to attract sports fans and nature in the mountains in the summer, one of the pioneers in this sense, there is no doubt friends in South Tyrol, usually at the forefront of the entertaining for families even when peaks are covered with snow.
The latest arrival in the pot-purri of activities to enjoy in good weather in the mountains, is the Fun Bob, or the summer toboggan run that makes you whiz on an aluminum tube between the mountain meadows down the Haunold in San Candide, with cows that graze placid.
It's a journey of 1,750 meters open continuously during the period June 30, 2013 – September 7, 2013 from 09.00 to 17.30, closed in case of rain, which has a vertical drop of 314 meters, a maximum gradient of 40% and a minimum of 5% and can reach the speed of 10 meters per second (the equivalent of 40 km/h), but do not worry if you're not brave, the sled is equipped with a mechanism to adjust it.
The price start at €3.60 for children under 15 years (7 euro climb in chairlift with descent in Fun Bob) and arrive at 5.10 Euros for adults only descent (9.80 euro the cable car ascent and descent Fun Bob).