In the Massif Central, treat yourself to a break away from the world, to discover the mountain huts, traditional houses of the shepherds. This is an opportunity to spend one or more nights up there in the mountains…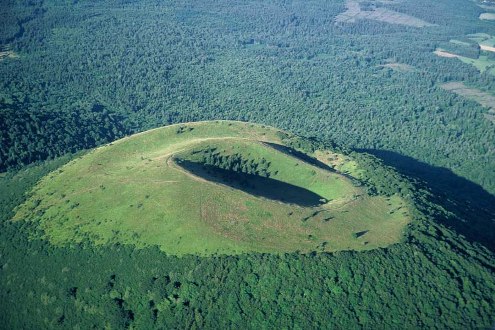 Since mid-April, herds of Salers cows joined the pastures of the Cantal mountains. At over 1200 meters, the manufacture of Salers Tradition, the iconic cheese of the region, continues as before.
A handful of houses, these traditional slate roof shelters allow this to continue production, while dozens of others have been converted to green tourism. Indicates the road, follow this excellent thread from which to explore and enjoy their most beautiful villages in the area!
Starting point, the walled city of Salers and its old houses with turrets, ranked among the most beautiful villages in France. It is here that starts your first step: facing the col de Neronne, which rises to 1,241 meters, the buron of Algour is one of the last or is still manufactured the famous cheese, as its neighbor, buron of legal, opposite, located opposite the Jordanne Valley.
Balade gourmande in nature
Some of these traditional habitats have become excellent host tables. Menu, meats and cheeses, as well as truffles or the pounti, a kind of cake cooked with bacon and prunes. Hikers stop there happily.
After such a feast nothing such as a walk, for example in the Mars Valley. Near the village of Saint Vincent in Salers, Roland Leymonie restored the buron of Veirieres, surrounded by trails to explore on foot, bike or horseback. Near the neck of Pas de Peyrol, the buron of Eylac, today stage cottage is ideally located on the GR 400 which crosses the Puy Mary.
Cocooning chic away from it all
17 km from Murat, the buron of Niercombe lies about it to 1450 meters above sea level, perched on a hill overlooking the valley of the Cere, with for panorama the volcanoes of Auvergne. This building of three centuries has become a cozy nest, where there is that lack of electricity. So much the better! Fireplace and dozens of candles transcend place and provide warm lighting. The cocooning chic with not a soul for miles. The experience is unique.