Not the usual prayer. In Zillah, a village of about 3000 inhabitants in Washington State, there are those who do kilometers for the pseudo-ecclesiastical hottest attraction in the area: The God-Zilla Church, or Church of Godzilla, dedicated to the famous Japanese film Kaiju, starring in numerous films and comics.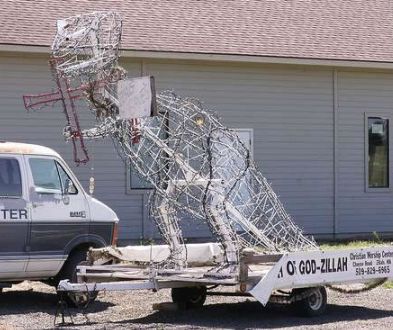 It all started with a play on words, a cute – but not at all-misunderstanding that made this town a very popular tourist destination. Why? Because here, well hidden by the buildings, behind the church in the city, there is a monument of steel with the appearance of the Japanese monster.
In its claws the God-Zilla holds a cross in the other, a sign that reads "Jesus Save". According to the Seattle Time, the Godzilla that was erected the monumental skeleton has nothing to do with the name of the citadel, which is entitled instead to Zillah Oakes, daughter of Thomas Fletcher Oakes, president of the Northern Pacific Railway in the area that has contributed the construction of canals and infrastructure. It is said that the father of miss Zillah promised her little, whimpering and capricious, giving her name to a city if she had the good girl. And so it was.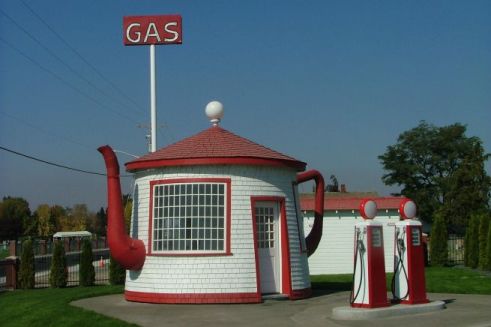 Play on words or less, the monument of God-Zillah attracts visitors. In addition to the monument of God-Zillah, however, there is another curious tourist attraction: the gas station shaped like a teapot. Here, too, we have nothing to do with "Alice in Wonderland", but is a building constructed as a warning after the Teapot Dome scandal that shook the Presidency of Warren Harding. The God-Zillah Church is one of the 25 attractions of Godzilla at worldwide.