When we think of Nepal come to mind images of snow-capped peaks, lonely in the mountains, spirituality temples and colorful prayer flags. However, this is only one of many facets of the country Himalayas lies: in the south, things are totally different.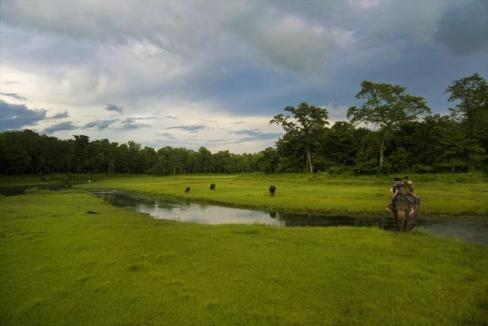 Together with the Indian border, south of Kathmandu, is the Chitwan National Park, a region of wetlands and flat jungle that moves many of the stereotypical image that we have of the Nepal's mountains. In Chitwan live elephants, rhinos, crocodiles and the famous Bengal tiger, which although very elusive, with luck and patience it can be seen occasionally.
One of the best ways to explore the depths of the park is to do with a canoe ride along one of its rivers. Another option is to visit the back of an elephant, which ensures great views from the heights will not have otherwise. Even, there are some associations that allow travelers to assist in the daily care of the elephants, experience that is very rewarding.
To get to the Chitwan National Park you have to reach the town of Sauraha, abounding in cheap accommodation. In Sauraha 4-5 hours bus from Kathmandu and Pokhara 6-7. To enter the park or stay in Sauraha, will have to pay a fee of 1500 rupees (11 euros) as an aid to the conservation of the park.
If there are too many for days after traveling through the mountains of Nepal or are you on the way to India, please do not hesitate to stop a couple of days to immerse yourself in nature; you won't be disappointed.