What free-rider has never dreamed of slipping on the steep slopes of Alaska, in 50 cm of untracked powder with breathtaking scenery?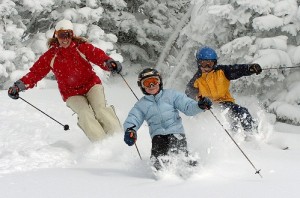 Surrounded by impressive glaciers overlooking the Pacific Ocean, the chain of the Chugach Mountains is an incredible place to live an experience out of the ordinary: the off-piste skiing on walls of snow very steep (50°) with a vertical drop of at least 3000m.
The snow quality is such that the avalanche risk, although there is relatively low especially since this snow sticks. However, it should have a good level and be used off-piste ski if you want to compete with the mountains of Alaska and experience this fascinating during skiing holiday.
All skiers and surfers looking for extreme thrills should try off-piste skiing in Alaska at least once in their lifetime! The ideal is to book a vacation rental in Alaska near Girdwood, Cordova or Valdez, near heliports: many associations as MeltingSpot, Point North Heli-Adventures, Chugach Powder Guides, etc.. are specialized in organizing extreme skiing trips and provide security and supervision of skiers.
It is really easy to organize a ski off-piste in Alaska but it is imperative to be supervised by guides: all the advice necessary for the proper conduct of stay and the safety of skiers/off-road riders are given on the spot, so that everyone can enjoy a stay full of adventure and thrills.