The Cadiz coastline extends over 260 kilometers and is known for its beautiful beaches of fine white sand and clear waters.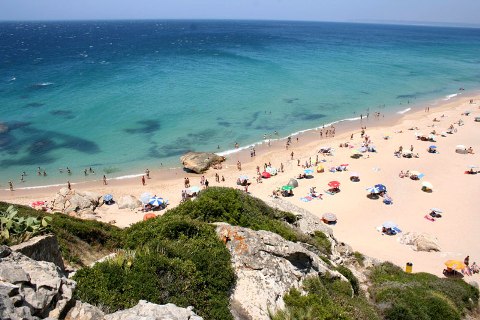 Cadiz has many charms, has cities like Jerez, El Puerto de Santa Maria and Sanlucar. As for its cuisine, its long coastline makes the fish stand out in their culinary preferences, are typical shrimp omelettes, soles, prawns and the enormous Atlantic bluefin tuna. Its shores are dominated by wind, both the east and the west.
Beaches on the Atlantic Ocean
There are many cities in the province of Cadiz noted for its beaches. Tarifa is the windsurfing paradise with beaches like Chica, South Lances, Valdevaqueros, Bologna and the Alemanes. In BarbateZahara de los Atunes, the Carmen, Hierbabuena, Canos de Meca and Zahora. In Puerto de Santa Maria Levante, Valdelagrana, Puntilla, Calita, Santa Catalina and Fuentebravia beaches. In Rota highlight the Rompidillo, Costilla, Piedras Gordas, Punta Candor and Aguadulce.
Another town in Cadiz with beautiful beaches is Chipiona, with Playa de Regla, las Canteras, Cruz de Mar and Montijo. In Sanlucar de Barrameda, la Jara, Calzada and Bonanza. In San Fernando, Castillo and Camposoto. In Conil, Castilnovo, los Bateles, Fontanilla, Cala del Aceite and Roche. In Puerto Real, Cachucha and Rio San Pedro. In Chiclana, Puerco, La Barrosa and Punta de Piedra. And finally in Cadiz capital, Anegada, Chato, Cortadura, Victory, Santa Maria del Mar and Caleta.
Beaches in the Mediterranean Sea
On the coast of Cadiz which is Mediterranean beaches also abound in the municipality of San Roque are those of Cabrero, Torreguadiaro, Sotogrande, Guadalquiton, Torrecarbonera, Campamento and Guadarranque. In the Linea, Playa de Levante and Playa Poniente Beach, Alcaidesa, Hacienda, Burgo and Atunara. In Algeciras, Rinconcillo, Getares and Cala Arenas. Any of these beaches is ideal both for its beauty and for the ideal temperature is in Cadiz to enjoy.