Awesome, overwhelming, stunning,… plenty of style adjectives to describe the Thai capital in a first impression. Bangkok is huge, and as such has plenty of attractions. If you're thinking of traveling to Southeast Asia, there are a couple of things that surely can help us…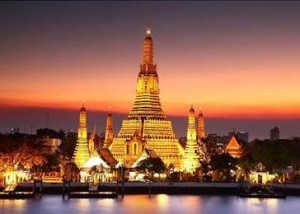 Some practical details
Getting from the airport to the city
In Bangkok there are two airports: Suvarnabhumi and Don Muang.
Suvarnabhumi Airport: Most foreign visitors come to these facilities, which are located about 30 km from the city center. One of the best options is to take the train from the airport is quick and cheap. These happen between 6 am and the midnight; the Line Express takes us to the stations of Mukkasan or Phaya in 15-18 minutes. The price is 90 baht, about 2 euros. The City Line takes slightly longer, about 25 minutes. The cost ranges between 15 and 45 baht, from 0.50 euros and 1 euro, which will be based on our last stop.
Getting around the city
The best way to get from point A to point B is the Skytrain, the subway or boats that circulate through the channel. It is advisable to have a good bag with coins of 5 and 10 baht for the purchase of tickets. Fees typically range from 15 to 40 baht, depending on the areas to cross.
Tips in Bangkok
At home, there is no culture imposed tips, although if it is of good education leave a small tip for good service. In taxis is usually rounded to nearest 10 baht. In restaurants, usually 10% is charged to the account previously. In hotels, should not expect the deposit back. For services such as massages and haircuts, between 20 and 50 baht usually works.
Explore and enjoy
Free
Free is always good thing, especially if we are looking at options to fit our budget. There are more things at no cost than we can think, here we bring you some:
Erawan Shrine, At Ratchaprasong, a place where we can find musicians and dancers.
Shopping streets such as Chatuchak, Muay Thai or Wat Mahatat Amulet Market
Khao San Road, with a great atmosphere and street performers
Temples around Chao Phraya, including Wat Arun and the Temple of Dawn
Penis Shrine along with the Nai Lert Park Hotel…a great center of Tantric Culture
Chinatown, near the Hualamphong station
Lumpini Park
Royal Elephant Museum