In the first months of the year thousands of humpback whales gather in the Samana Bay offering a unique show that is repeated every year in the Dominican Republic. These whales, also called Yubartas, go from mid-January to the end of March to the warm waters of the Samana Bay, in the north of the country, to mate or to have their baby. It is the occasion to be able to spot these wonderful creatures in their natural habitat and enjoy a unique tourist attraction in the Caribbean.
The whales travel thousands of kilometers from the seas of Iceland, Greenland and North America to end their journey in the Samana Bay. It is surprising the unwieldiness of these bulky animals, which can weigh 40 tons, jumping on the waves and then collapsing on them. This way the males behave to wake up the interest of the females, while emitting characteristic sounds that can be heard within a radius of 30 kilometers around the water.
Between 11 and 12 months after mating, the whales return to these same waters to give birth to their young. The calves, which weigh a ton at birth, offer the most tender image by swimming and playing around their progenitors. Each day they ingest 200 liters of breast milk and gain around 45 kilos. It is important that these young are strengthened quickly to be able to face the demanding journey to the colder waters of the northern hemisphere.
Silver Bank, in Samana, has been recognized since 1986 as the Sanctuary for Marine Mammals, a space dedicated by the Dominican Government to the protection of these animals and also considered among the best places in the world for the observation of the species of Humpback whales. These marine giants, able to stay under water for up to 40 minutes, emerge majestically to the surface of the Atlantic in their Sanctuary Samana. It is easy to understand that the sighting excursion of the humpback whales is the star attraction of the season.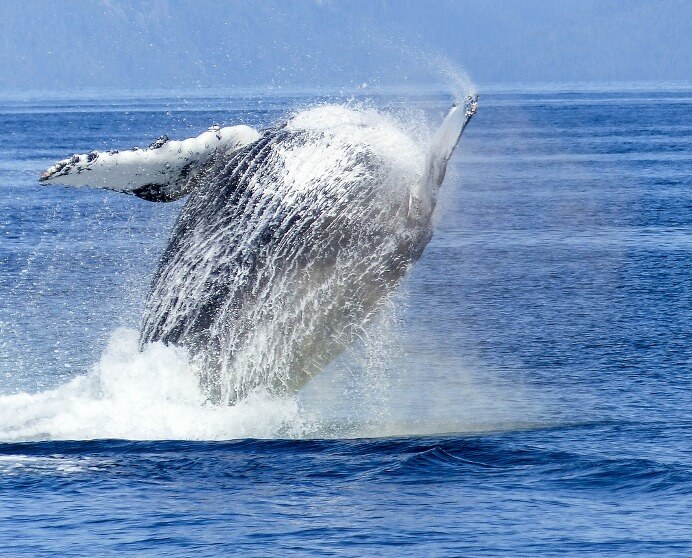 How to visit humpback whales
Both for families visiting the Dominican Republic and for nature-loving travelers, the humpback whales of Samana are an unmissable attraction. Booking an outing to the high seas to sight the whales is simple. Different companies sell the boat tour, including picking up clients at the hotels where they stay.
The whole peninsula of Samana is surrounded by the Marine Mammal Sanctuary and on its south coast is located the Terrestrial Observatory of the Whales. This viewpoint, located in Punta Balandra, was inaugurated by the Ministry of Environment of the Dominican Republic in 2011 and allows visitors to see from the ground to the whales that migrate to the protected area of ​​the Sanctuary.