Sun City is both an extraordinary amusement park and a resort in the heart of the bush of South Africa.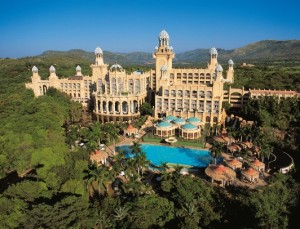 Internationally recognized, it can occupy the whole family day and night. Rent a house in South Africa and take the opportunity to discover this extraordinary world.
Built in the middle of nowhere in 1977, the entertainment complex of Sun City is located two hours drive from Johannesburg, near the National Park Pilanesberg.
Aquatic games fans will enjoy the Valley of waves and Waterworld. Imagine an artificial lake surrounded by sandy beaches and coconut palms, waves of 1 meter 80 every 90 seconds, water slides of incredible length or the possibility of water skiing, jet skiing, parasailing, and pedal or just enjoy the sun and do nothing.Read More »Sun City: The kingdom of pleasure in South Africa