Alsace is a region in eastern France, more specifically in the departments of Haut-Rhin in the South with capital is Colmar, and the Lower Rhine in the north with its capital Strasbourg.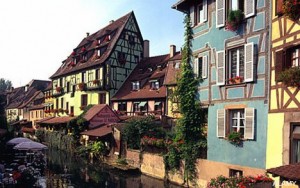 Its territory is vast and therefore offers many historical sites and monuments to explore borrowing. Furthermore, this region of great charm is not only the ideal place for a romantic, but also offers countless activities for family vacations.
If you find yourself in Alsace for the Christmas season, visit the Christmas market in Strasbourg, which is one of the finest in the region.
The city of Strasbourg is located in the North of France has an advantageous geographical location since it is the border to Switzerland and Germany. It has enormous natural resources and heritage that will delight both families, for couples seeking to get away. Indeed you can discover the Alsace with Naviscope river, or visit the zoological museum of the city real benchmark in this field.
Colmar is not only considered the capital of Haut-Rhin as it is also ranked city flowered and achieved numerous awards for its floral displays. This city is also surrounded by an exceptional natural heritage, in fact its eastern forests and grasslands extend to the vegetable growing areas, and the west you will discover a vineyard landscape very important since Colmar is also recognized as the wine capital of Alsace.