China: Xuankong Si, a monastery hanging on the mountain
It is not enough to be convinced frequenters of places of worship for deciding to go into the temple suspended Hengshan also called Xuankong Si. To access this unique space of prayer consisting of forty rooms, all carved in stone and connected by a series of steps and bridges, are also needed decent gifts from climber.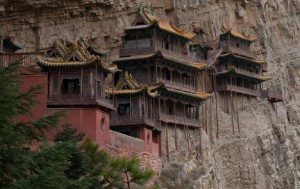 A structure in the Chinese province of Shanxi, which beyond its certainly important religious significance, affects the choice of location, suggesting fearful dangers or strong desire to inflict hardship and suffering… 1500 years old and hanging on the rock and the precarious stability provided by simple wooden poles, according to local legend, the monastery was built by one person, working 75 meters above the waters of the river.
This would be one of the most spectacular monasteries in China, which houses sacred statues in various materials like stone, clay, iron and bronze from the sixth century and is built entirely of wood in a precarious position on the steep walls of a cliff. A place that would help prevent flooding, creating a symbol of unity among the religions.